Spike in raw material price and supply volatility
 Ask any procurement department and you will find Qtr. 4 2020 was a turning point for the Raw Material prices.
Shortages in containers and spiking freight charges were combined with selective raw material shortages sent shock-waves through many industries. Chemicals, textile and steel markets have all seen rapid increases in selected areas with energy related commodities increasing 15%, and non-energy commodities increasing 5%.
All across the board, prices are increasing rapidly, and some of the prices will overshoot as demand recovers lost ground, and half-filled pipelines suddenly fill up and put a strain on factories operating on lower capacity. Add a strong recovery in China, as well as speculation and market manipulation, and these price movements will be exaggerated before they find a new equilibrium.
And in the past 3 years China Blue Sky policies and Industrial fires in China, oil price surges and drops, and COVID have all created high market volatility. Now, with the recovery of demand, we are again going to see a 12 months of unprecedented volatility at a micro level, as pipelines and capacity recovers.
Have companies learned the lessons of the last 3 years and are they ready to deal with this volatility? Or is volatility still seen as an exercise in crisis-management?
Raw material prices are critical to the P&L in 2021
The cost of raw materials remains the top overall concern for many chemical and food industries and manufacturers. The price of raw materials is not just a key driver of sustainable margins, it is at the heart of remaining competitive.
Here are some thoughts on how world-class companies should structurally be ready to cope with RM price volatility.
Strategy to manage volatility in RM prices & supply
1. See volatility as the opportunity it is
Consider the reasons why your customer may change suppliers. For sure, a significant price decrease is one reason, but more often than not a business will change supplier because the relationship is damaged through supply disruption or quality issues. Supply volatility will provide opportunities to pick up new business. Investing in your systems and processes to manage volatility is an investment in growth as well as protecting your business.
2. Be aware of price changes and supply chain disruption upstream in the value chain
Disruption and price changes in upstream markets and feedstocks can provide an early warning of price changes or market supply issues coming your way. See it as a smoke alarm – it may be a false warning, but it may be an important first hint. And in a market shortage, it only makes sense if you are the first to panic. See article
ProcureAnalytiq was designed to enable businesses to set up feed-stock indexes relevant for their industry, and get automatic updates of price developments.
3. Serious stocking up should be done by exception, but JIT may be too risky
Increasing safety stock across the board is an easy answer at times of volatility, but adjustment of inventory levels increases risk of inventory losses and takes a lot of cash. In addition, it creates a shortage in the pipeline. So this may be a self-fulfilling prophecy. However, it makes sense to consider increasing safety stock for products for which you have no viable or commercial alternative, or products for which you can reduce the unit cost by increasing the order to fill a container. After all, if you were lucky enough to get your hands on a container you should fully use it.
However, continuing with minimum safety stocks under a Just-in-time model is no longer a practical option for most businesses as disruption will continue for some time. 
4. Measure your dependency on certain suppliers or raw materials
Competitiveness needs to be measured per product, not per sub-category or per category. For each product you need to check how many suppliers have proven alternatives. And by "proven" I mean proven in practice, not on paper. A category of raw materials may look to be competitive on paper as there are multiple suppliers. But if you break down a category into individual products, you will find many product for which you do not have proven alternatives.
5. Ensure you are purchasing across different regions
As price differences between developing and develop countries are smaller than they used to be, it is important to qualify and purchase from different regions to avoid the risk to supply chain disruption tied to a single source of feed-stock, infrastructure, freight/duty, etc. It is also a more effective way to ensure you are not subject to collusion among suppliers, as is too frequently the case in China and India.
6. Change the mindset – finished products are not set in stone
The ongoing replacement of raw materials in finished products to gain profitability should be part of the process. Replacement of raw materials should be standard, not the exception and the planning of this should start at the innovation stage. The R&D teams are pivotal in managing the profitability of your business and part of the R&D team has to be fully dedicated to replacing raw materials in formulations.
7. Ensure processes & systems are in place to switch suppliers
Most business build their processes for stability and quality-consistency. But too many business under-invest in their capability to switch quickly between 2 different sources of supply without taking excessive risk. The ability to quickly industrialize new raw materials, and proven ability to switch between existing raw materials is an essential skill for most business to drive profitability, but has the benefit of helping to navigate a supply crisis.
Critical processes to take into account include thorough industrialization procedures, pilot production facilities, quality control procedures, and phase-in and phase-out inventory processes.
The industrialization team must combine SCM and R&D skill sets, and report to an Industrialization boss at least at the same seniority as the manager of both SCM and R&D.
8. Constant communication between Procurement and Planning
At a time of price and supply volatility, the communication between Procurement, Purchasing and Planning is your lifeline to avoid disaster. There will need to have a constant dialogue set up to manage shortages and make decisions on inventory, quality and price expectations. Any shortages or price spikes needs to be communicated immediately to the business development teams. If there is a major supply shortage, consider to relax authority levels a little to ensure the team can make faster decisions. You can manage this risk with detective control rather than preventative controls.
9. Constant communication between Procurement and Sales
Price changes may require price increases, temporary surcharges on prices or pre-conditioning by the sales team of the risk of future price increases. If price increases and shortages are severe, the sales team needs to be fully up to date so that they can deal with customer queries about security of supply. In addition, communicating the underlying raw material increases, and giving the sales teams tools to explain the issues to their customers are part of the process.
10. Don't wait too long with price increase programs
If prices are going up, do not be too slow to increase prices to the market. Increasing prices across the customers is a learned skill more than anything, and a vital part of running a business profitably. Processes such as conditioning letters, tracking results, explaining reasons and even establishing price mechanisms or formula pricing with key customers should all be part of the skill set.
11. Be ready for questioning by those profit responsible and the CFO
At times of high price volatility, the number of queries from business managers and finance/controlling will increase exponentially. Explaining price developments clearly and demonstrating market price movements as well as feedstock movements
12. Hedge risk in the short term
Volatility in FX markets as well as some raw materials can be hedged. If your business profitability could be seriously impacted in the coming 6 months without the ability to react on the price side, it is good practice to hedge part of that exposure. But only if it is true exposure across the business, as hedging will reduce your normal operating profit. For example – if you company is seriously short in one currency, it is worth considering to hedge this risk for the coming 3 months. In some cases part of your RM exposure may be covered under clauses in your business disruption insurance, so it is worth to understand what risk, if any, is already partly covered.
Managing volatility well will pay dividends in calmer times
Most of all, managing supply disruption and price volatility requires cross-functional approach and clear communication. Companies that see this challenge as the problem of SCM and Procurement are likely to go from one crisis to the next without making the improvements that need to be made.
The good news is that those improvements in your organisation, processes and systems will be a key pillar of managing profitability when waters are calm.
Procure Analytiq
DELIVER DIRECT MATERIAL SAVINGS
ProcureAnalytiq is an online cloud-based software tool to track market developments and leading indicators related the direct material purchases for your business. 
ProcureAnalytiq enables user to faster reaction to market changes, better negotiations, automated forecasting of material pricing, better internal and external communication, and ultimately reduces direct Raw Material prices.
Interested to explore more?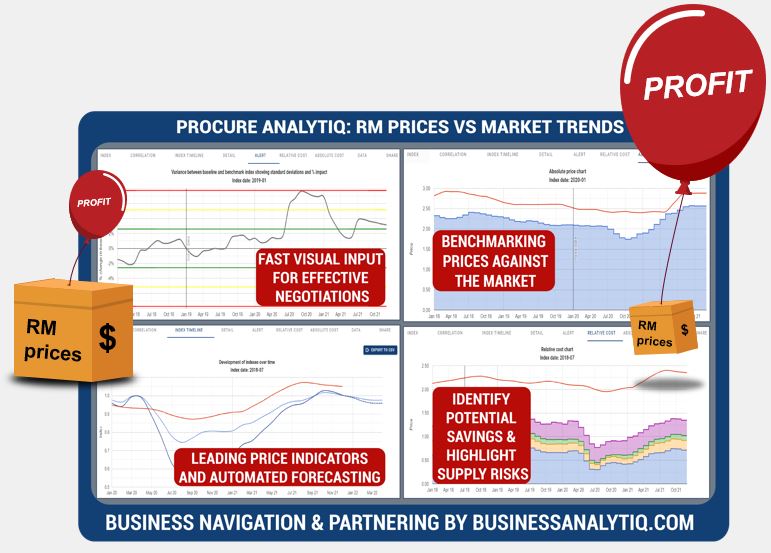 ProcureAnalytiq enables external benchmarking of your raw material pricing
ProcureAnalytiq was built to support tracking critical benchmark and cost-driver price development against your RM pricing.
Track your pricing against  external benchmarks
Finding and tracking external benchmarks is a critical requirement in procurement. It requires advanced search for external benchmarks and system to ensure that the tracking is correctly done in terms of Indexing, FX, Unit of Measure, 
Track your pricing against critical feed-stock pricing & disruption
Choosing the right data sources for the critical cost drivers and proving the correlation through a look at history. Many procurement managers already keep an eye on 1-2 critical cost drivers. But often they are searching for the right price trends and they may choosing the wrong source of cost-driver data leading them to reach the wrong conclusion.
Build price indexes which are an indicator for your business or SBU's
ProcureAnalytiq enables you to set up benchmark indicators in minutes to establish overall market indicators for your industry.
Save time & effort in procurement
In addition, the search of data as well as model building in Excel takes times and effort by the procurement staff. This time is better spent on interpreting data and planning negotiations rather than fiddling around in Excel?
Sharing of results
ProcureAnalytiq helps users to share their analysis over time, so that only 1 junior person can maintain the data (based on reliable data sources) and the others can use the analysis for interpretation and communication. It also allows a team to share their input with the supervisor or with research or other business partners.
Interested to explore the topic futher?
If you are curious about the topic of price benchmarking, especially of critical cost-drivers, please feel free to reach out to me through the Explore ProcureAnalytiq page