Chances are that your business is facing aggressive increases in the cost of packaging. At ProcureAnalytiq, we specialise in benchmarking prices against the market to help establish cost estimates for products and indexes to help with formula pricing and price management.
Building a cost benchmark for any product is not so complicated. As an example, here is the cost breakdown of a plastic packaging product intended for dry goods.
Creating a cost-driver model dry foods packaging.
To set up cost-driver tracking for a dry foods packaging I had to estimate the cost structure. This was our starting point and from here on we did more internet research and spoke to some experts we found on upwork.com and people who had some exposure to packaging costs.
From the analysis we broke down the cost-driver analysis of dry food packaging to almost 25 elements, of which we chose the top 11 cost drivers. These elements included the following cost drivers:
PET
PP
PE
Isocyanates
Titanium Dioxide
Pigment
Aluminium
Solvents
We excluded conversion costs on the grounds that these are largely labour and depreciation, and are predominantly fixed cost. We also excluded contribution to overheads and profit as these are not variable cost of sales, and would generally be fixed, as a cost per unit, % of cost, or as a profit margin % expectation.
That creates an image of prices compared to critical cost drivers as follows:
Fro this overview, you can see the rapid increase of the cost structure, but that it remains below the levels last seen in Quarter 2 of 2018. 
The various cost indexes can be shown as follows.
The conclusion is that even in the face of the strongest arguments for price increases, it is important to do the analysis. At best, you can delay the threatened price increases, and at the very least you establish a clear basis for price decreases in future, as well as clear communication with your internal stakeholders
Procure Analytiq
DELIVER DIRECT MATERIAL SAVINGS
ProcureAnalytiq is an online cloud-based software tool to track market developments and leading indicators related the direct material purchases for your business. 
ProcureAnalytiq enables user to faster reaction to market changes, better negotiations, automated forecasting of material pricing, better internal and external communication, and ultimately reduces direct Raw Material prices.
Interested to explore more?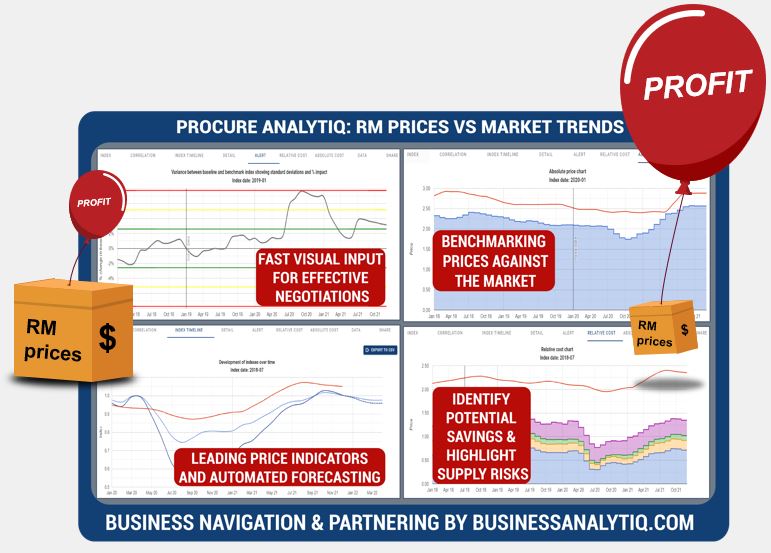 The summary above comes out of the ProcureAnalytiq system, based on generic market data and outline cost-driver models. In general, if we work with a client, we develop cost-driver models which are more accurate and relevant and which can be used in negotiations, price tracking, or even price mechanisms.
As market models are confidential, we can not work with competing companies in a single industry.
Here is a short summary of what ProcureAnalytiq is intended to do.
ProcureAnalytiq enables external benchmarking of your raw material pricing
ProcureAnalytiq was built to support tracking critical benchmark and cost-driver price development against your RM pricing.
Track your pricing against  external benchmarks
Finding and tracking external benchmarks is a critical requirement in procurement. It requires advanced search for external benchmarks and system to ensure that the tracking is correctly done in terms of Indexing, FX, Unit of Measure,
Track your pricing against critical feed-stock pricing & disruption
Choosing the right data sources for the critical cost drivers and proving the correlation through a look at history. Many procurement managers already keep an eye on 1-2 critical cost drivers. But often they are searching for the right price trends and they may choosing the wrong source of cost-driver data leading them to reach the wrong conclusion.
Build price indexes which are an indicator for your business or SBU's
ProcureAnalytiq enables you to set up benchmark indicators in minutes to establish overall market indicators for your industry.
Save time & effort in procurement
In addition, the search of data as well as model building in Excel takes times and effort by the procurement staff. This time is better spent on interpreting data and planning negotiations rather than fiddling around in Excel?
Sharing of results
ProcureAnalytiq helps users to share their analysis over time, so that only 1 junior person can maintain the data (based on reliable data sources) and the others can use the analysis for interpretation and communication. It also allows a team to share their input with the supervisor or with research or other business partners.
Interested to explore the topic futher?
If you are curious about the topic of price benchmarking, especially of critical cost-drivers, please feel free to reach out to me through the Explore ProcureAnalytiq page