Market update April 2021
After 6 intense months, every procurement team is exhausted dealing with supply and logistics emergencies. Dealing with this pressure in the middle of a COVID crisis is insult to injury.
Shortages, and resulting price increases, have been caused by increased demand, refilling of pipelines and restoring capacity, selective raw material shortages and force majeures, spiking freight charges, and a blockage of the Suez canal. 
Chemicals, textile and steel markets have all seen rapid increases in selected areas with energy related commodities increasing 15%-25%, and non-energy commodities increasing 5%. The good news it that the price surge is showing signs of slowing down. If you look at underlying factors, most have already gone beyond justified price increases and I expect they will fall back some. May 2021 will prove to be the high point for many industries.
However, the impact of the shortages will continue to work its way through the supply chain, such as semi-conductors, for some time.
Here are some updates of different industries:
Chemicals
Alcohols
April 2021 – Alcohols are approaching levels last seen in Qtr 2 2018, partly driven by increases in the prices of gasoline, corn and sugar. Here is a summary of the price indexes of some of the main alcohols:
Resins
April 2021 – Resins have seen a period of rapidly increasing prices that still has a month or 2 to go, but the index should then fall back to the levels of today. Here is a summary of the price indexes of some of the key resins:
Petrochemicals
April 2021 – Petrochemicals .
Major petrochemicals had their biggest jumps in Quarter 1, but the increases here are also running out of steam. Causes were increased demand, increased gasoline prices and some disruptions in production partly due to winter storms int he southern USA. Styrene, benzene, toluene, ethylene all saw rapidly increase prices, leading to an overall increase of >50% vs 12 months ago.
Fertilizers
April 2021 – Fertilizers
Fertilizer prices are a mixed story. Products like Urea and Phosphate have seen a quick recovery in the last 6 months, areas like Potash have remain relatively stable due to a large over-supply. Ongoing low single-digit price increases are to be expected
Ethyl and Methyl groups
April 2021 – Ethyl and Methyl groups
Despite the cold weather in the USA and the force majeures in Europe by the 2 major suppliers, coinciding with high demand, the prices for Ethyl Acetate will start to recover soon. Other groups have been less affected.
Plastics
April 2021 – Plastics producers have enjoyed nice price increases recently but are starting to over-reach. At these prices, competition will come from further away and some of the price gains will need to be given away before long.
Inorganic chemicals
April 2021 – Inorganic
Inorganic chemicals are a wide range, type and sources, and have largely reacted to higher demand and pipeline refill. Prices should stabilise and even drop for most products in the coming 3-6 months.
Procure Analytiq
DELIVER DIRECT MATERIAL SAVINGS
ProcureAnalytiq is an online cloud-based software tool to track market developments and leading indicators related the direct material purchases for your business. 
ProcureAnalytiq enables user to faster reaction to market changes, better negotiations, automated forecasting of material pricing, better internal and external communication, and ultimately reduces direct Raw Material prices.
Interested to explore more?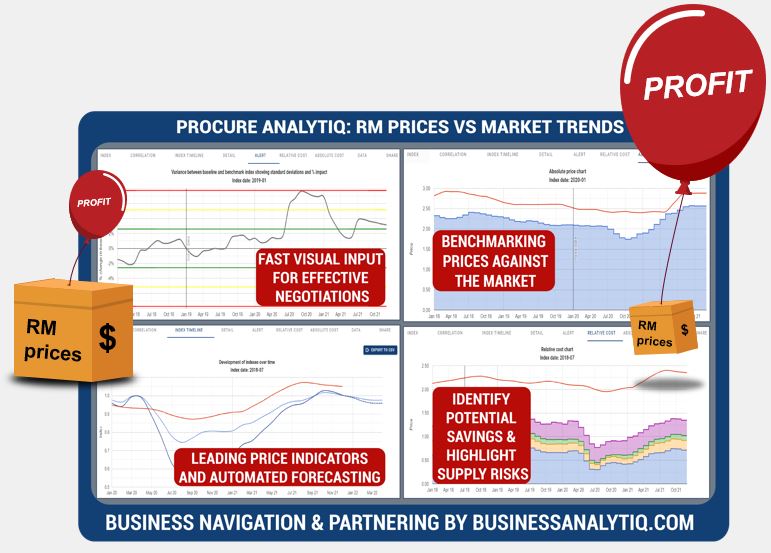 ProcureAnalytiq: Price  benchmarking of your direct materials
ProcureAnalytiq was built to support tracking critical benchmark and cost-driver price development against your RM pricing.
Track your pricing against  external benchmarks
Finding and tracking external benchmarks is a critical requirement in procurement. It requires advanced search for external benchmarks and system to ensure that the tracking is correctly done in terms of Indexing, FX, Unit of Measure,
Track your pricing against critical feed-stock pricing & disruption
Choosing the right data sources for the critical cost drivers and proving the correlation through a look at history. Many procurement managers already keep an eye on 1-2 critical cost drivers. But often they are searching for the right price trends and they may choosing the wrong source of cost-driver data leading them to reach the wrong conclusion.
Build price indexes which are an indicator for your business or SBU's
ProcureAnalytiq enables you to set up benchmark indicators in minutes to establish overall market indicators for your industry.
Save time & effort in procurement
In addition, the search of data as well as model building in Excel takes times and effort by the procurement staff. This time is better spent on interpreting data and planning negotiations rather than fiddling around in Excel?
Sharing of results
ProcureAnalytiq helps users to share their analysis over time, so that only 1 junior person can maintain the data (based on reliable data sources) and the others can use the analysis for interpretation and communication. It also allows a team to share their input with the supervisor or with research or other business partners.
Interested to explore the topic futher?
If you are curious about the topic of price benchmarking, especially of critical cost-drivers, please feel free to reach out to me through the Explore ProcureAnalytiq page