The most critical KPI in Procurement is also the most difficult to measure. But the conclusions are simple.
Unless you have at least 3 (non-collusive) suppliers competing in each category, you are running regular tenders and you switch between your suppliers on a regular basis, then the question is not "if" you are paying too much, but "how much" are you paying too much.
And the supplier, who services you well and is a strong long-term business partner, that is the supplier who is over-charging you the most.
Besides the ability to benchmark pricing, this topic raises some other important questions such as how to track competitive position of products, how to make pricing between suppliers more comparable, and how to ensure you can switch suppliers more quickly and with less risk. I have briefly addressed these topics below.
How so to estimate the gap between your prices and the best possible price?
Price analysis methodologies
A) Ideally as part of a competitive bidding process!
If you have regularly competing suppliers who value your business, and that you can switch between, then you can be sure you are getting the best possible prices. Truth is, that usually only truly applies to a small % of supplies , if any.
The true willingness for companies to switch suppliers is usually low, and the consequence is probably at least 5% in terms of incremental price.
However, even if you are tendering each piece of business, every business should still look to alternative ways So how else to benchmark prices?
B) Relentlessly source direct benchmarks
Establish a relentless search for price information. There are multiple sources besides competitive bids for your business:
Benchmark pricing against pricing of similar products
When an item is low volume or seen to be somehow unique, you should benchmark it against products which are relatively similar or are bought in larger volumes. This will help to understand margins and price differences and may be highlight products which will offer similar functionality at a lower price.
Informal market information from industry contacts
Networking is crucial. Although much of the information cannot be fully relied on, nevertheless it is important to actively maintain industry contacts and source information. Eventually patterns will appear on who provides actionable insight, and can give early warnings on price changes etc. It is vitally important to use these sources.
Internet searches for information
There are many specialist websites, that specialise on maintaining up to date market information on certain product categories. Some of these sites include prices and price trends. Each of the category managers needs to keep an eye on critical information sources, as regularly these sites give useful market information.
Use data from Due Diligence exercises
When your company does a due diligence, the DD team will receive information on prices of raw materials of the competitor. To ensure that the DD data is not providing too much commercially sensitive information, often the supplier name is not provided, or the product name is simplified. Regardless, there is still a lot of commercially useful data in a DD process as it forms basis of the price determination on which your business can calculate a price for the target. Even if the acquisition does not go ahead, that DD data can still be commercially highly valuable. Do not miss this opportunity to benchmark part of your portfolio.
Purchase market data
There are many companies selling market data. In some cases this data can be used as a direct benchmark, and it most cases it can serve as a comparable price index. This data is often not cheap and, in my experience, it is not used well enough by many companies. If you are buying market data, use it as much as you can to make decisions.
Source import and export data
There is price data available from import and export data sites. In most cases this data is aggregated by HS code, in other cases either the volume of value data is missing. But in some cases the data is complete. Including INCO term. It might not be perfect data, as often companies will include rebates into the price data which is refunded separately, but it falls into the same category as all other data… It is a potential source of data and it should be explored.
C) Create indirect cost benchmarks
A more complicated route is to calculate an estimated total cost based on the various components based on expert insight. This is likely not to give a very clear cost picture unless the breakdown is relatively simple and based on components for which accurate pricing is available.
The types of inputs you are likely to need are:
List of key materials and their costs
Estimated fixed (depreciation) and variable production cost based on the process type (there is information available on line)
Any special costs such packaging, quality, safety, waste or health related
A reasonable assumption on supply chain or services if significant
A reasonable assumption on contribution to overheads/profit
Even if the analysis does not lead to direct Any thorough analysis is likely to give some benefits:
It will provide a high-level approximation of the margins your supplier is making. On a comparable basis, you will be able to identify which suppliers may have room for price decreases. Those are the categories where you need to introduce more competition
It will provide a price index against which you can track the development of your pricing. So even if it will not give you direct actionable price data, it will provide valuable data over the long term. See this article
And of course you can always ask for an open-book costing from your supplier but that is extremely rare these days and unlikely to be successful.
D) 3 additional topics raised above
How to track competitive position
Competitiveness needs to be measured per product, not per sub-category or per category. For each product you need to check how many suppliers there are and whether the switch between suppliers has been proven. But, unless there is the proven ability to switch supplier, there is no genuine competition.
A category of raw materials may look to be competitive on paper as there are multiple suppliers. But if you break down a category into products, you will find for many products there are standard suppliers which have been supplying the business for many years without sufficient challenge to their pricing.
How to ensure your business can switch between suppliers
Most business build their processes for stability and quality consistency. But too many business underinvest in their capability to switch quickly between 2 different sources of supply without impacting their quality or specifications. The ability to quickly industrialise new products, or switch between existing raw materials is an essential skills for most business to drive profitability. This agility also supports in risk management such as supply disruptions. Critical processes to take into account include thorough industrialisation procedures, pilot production facilities, quality control procedures, and phase-in and phase-out inventory processes.
How to make prices comparable
No two single products are identical or 100% comparable. You need to develop robust processes to translate the following elements into a price component to enable procurement to make the right decisions.
The price value of extended credit terms
The price value of services
The price impact due to specifications
The price impact of cost-in-use differences
Recalculate pricing to a local landed cost on the same INCO terms, freight, duty and tax
Procure Analytiq
DELIVER DIRECT MATERIAL SAVINGS
ProcureAnalytiq is an online cloud-based software tool to track market developments and leading indicators related the direct material purchases for your business. 
ProcureAnalytiq enables user to faster reaction to market changes, better negotiations, automated forecasting of material pricing, better internal and external communication, and ultimately reduces direct Raw Material prices.
Interested to explore more?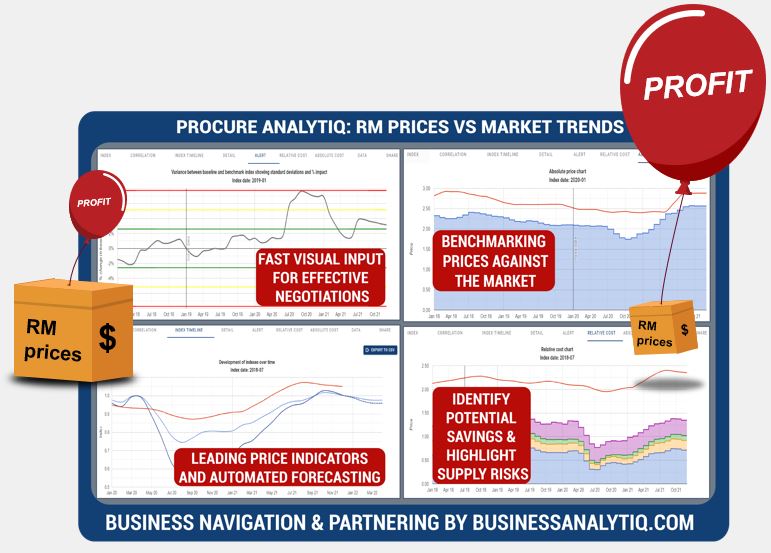 ProcureAnalytiq enables the set up of benchmarking
ProcureAnalytiq was built to support tracking critical cost-driver price development against your pricing. It has additional benefits compared to the usual way that procurement teams do this tracking
Choosing the right data sources
Choosing the right data sources for the critical cost drivers and proving the correlation through a look at history. Many procurement managers already keep an eye on 1-2 critical cost drivers. But often they are searching for the right price trends and they may choosing the wrong source of cost-driver data leading them to reach the wrong conclusion.
Using the cost-driver price data in an inconsistent way
Or they may choose to interpret the feedstock data or multiple cost-driver prices incorrectly over time.
Incorrectly applying FX data
Many people struggle to understand how to apply FX translation over time. Often this results in a distortion in their analysis due to the misunderstanding of how to apply FX translation to data series to make them consistent.
Choosing the wrong or inconsistent data of FX sources, or incorrectly applying the results, may lead to incorrect conclusions.
Save time & effort in procurement
In addition, the search of data as well as model building in Excel takes times and effort by the procurement staff. This time is better spent on interpreting data and planning negotiations rather than fiddling around in Excel?
Sharing of results
ProcureAnalytiq helps users to share their analysis over time, so that only 1 junior person can maintain the data (based on reliable data sources) and the others can use the analysis for interpretation and communication. It also allows a team to share their input with the supervisor or with research or other business partners.
Interested to explore the topic futher?
If you are curious about the topic of price benchmarking, especially of critical cost-drivers, please feel free to reach out to me through the Explore ProcureAnalytiq page