A key pillar of procurement performance are different types of procurement analytics.
Procurement is a key driver of sustainable competitive edge, representing 30%-70% of the Profit & Loss statement, yet too many companies do not value procurement enough as a driver of business value
One of the root causes of the disconnect between Procurement function and the rest of the organisation is that the procurement analytics are underdeveloped.
Reasons for the underdevelopment of Procurement Analytics:
Lack of reliable and consistent data internally
The inability to reconcile purchase data to the financial statements creates a credibility issue
Reliable external benchmark data is limited and expensive
The critical KPI of "procurement savings" tracking is complex to measure
Business value that procurement analytics can enable
Material Cost reduction
Margin improvement
Cash flow improvement
Non-financial benefits such as:

Risk reduction
Improve the dialogue between Procurement and other functions
Increased efficiency & effectiveness of the procurement team
Deliver innovation to give a competitive edge
I have listed below some examples of different types of procurement analytics, in decreasing order of business value.
All these examples are in relation to direct materials, rather than indirect expenses.
Procurement analytics: Spend categorization and general data cleansing
Data cleansing is not a type of procurement analysis, but it lies at the foundation of all procurement analytics and is therefore the most valuable to business.
Data cleansing spend classification or categorization is the allocation of spend into a category and sub-category structure and the alignment on description, type, and consistency of pricing and units of measure.
Only sorted and structured data can deliver genuine business value consistently. Without spend categorization you cannot implement effective procurement analytics, category analysis & management, benchmarking, forecasting, budgeting, and drive effectiveness and efficiency of your procurement team.
There are effectively 3 steps in sorting out your data: sourcing the data, cleaning up the data, and using the data.
Data cleansing is not a one-time job. It reoccurs monthly so it important to investigate major sources of data inaccuracy and correct them at the source.
The key elements of good data include the following:
Data must be accurate
Data must be complete
Data should be timely
Data must be consistent across platforms and reporting systems
Procurement analytics:

Single source and Competitive score
In procurement power of the customer is inversely related to price. The more power the customer has, the lower the price has the potential to be. The more power the supplier has, the higher the price will be.
The main determinant of power for any buyer is the number of suppliers he can choose from to source products for the company, without incurring significant cost or risk for the company.
Consequently, the analytics around measuring and reporting the competitiveness of each product or category is ranked second in terms of business value.
Competitiveness is also a measure of risk management, as a single qualified source of supply will create serious risk for the organisation in the case of specialties, as well as exposure to higher pricing.
Below is an example of what that the procurement analytics could look like, but it needs to be a tailor-made analysis for each different business.
The scoring system to measure competitiveness of a product or category should be based on actual testing and trying and not assumptions. A raw material from a different source must be proven in the final product before it can be considered as a proven replacement.
Each product can be individually scored in terms of competitiveness, by looking at the alternative sources which can be quickly replaced. In the chart below, I have used the convention of scoring a product from 1-4, where 4 is the maximum if there are more than 3 qualified suppliers for a product. A 1 signifies that there is no competition, and only a single supply source.
Procurement analytics:

Cost benchmarking analysis
Bench-marking analysis is the art and science of finding market benchmarks which can be used to gauge performance against the market.
If the right market bench-marks could be found, knowing the right price point and conditions to target would be simple. Having good market benchmarks and insights is the holy grail of procurement.
Therefore, the process of finding benchmarks and using them for price comparisons, or understanding price movements, should be relentless. Too often, benchmarks are used in an ad hoc manner by either the suppliers or the customer in their arguments, without reliable and consistent statistics & sources to back up the analysis.
Bench-marking will help to identify areas to save costs and improve margins. The early warning of likely price changes will also help to improve cash flow and reduce risk. Comparing company prices with market trends also serves as a platform for discussion with other functions, and to prepare price increases with customers.
This is also the area that BusinessAnalytiq specialize in, as it requires extensive market data and to do it well requires understanding of statistics. Nevertheless, many procurement teams do it in a simple excel file, without exploring the full opportunity of actively creating direct or indirect cost benchmarks for direct materials or some expenses.
There are 3 types of benchmarking analysis
The benchmarking against direct comparable market benchmarks
This usually applies more to commodities with low complexity and for products which have a large volume. Many companies supply market data on commodities pricing such as ICIS and Mintec Global.
If you have considerable spend of a commodity or need to share market benchmarks with your suppliers or customers as part of a price mechanism, then the high fees that these companies charge will quickly be worth the cost.
The benchmarking against critical feedstocks and cost drivers
In the absence of relevant direct benchmarks, the next best thing is to track the prices of your direct materials against critical cost drivers and feedstocks.
Although critical feed-stock prices will never explain 100% of the price development of your product, they often have a correlation of >70%, which means they can explain more than 70% of the price movements of your prices. Not having transparency on this, means you are missing out on understanding 70% of the price movements.
A standard set of reports could look something as follows:
Whether it is in Excel, or in a more sophisticated tool like ProcureAnalytiq, doing benchmarking in procurement should be ongoing and relentless.
Should-cost analysis
The third area is "should-cost analysis". This is an attempt to estimate the total cost of a product based on knowledge of its main raw materials and the cost of processing.
This is normal practice in some industries such as electronics. In addition, exceptionally large customers can demand less powerful suppliers provide open-book costing.
However, there is also value in the process for many other companies.
Although the full-cost estimate of a product is likely to be an estimate at best, there are business benefits to carrying out the exercise:
You will gain insight on the approximate margin your suppliers are making
You will identify some categories with potential for price decreases
You will gain insight on the key cost drivers for materials and create a price index for those
You will gain insight on the risk of supply for a certain product
Want to deliver savings in direct materials?
Business Analytiq provide outsourced procurement analytics services that helps you identify savings in direct materials. We also provide you with a single point of contact to provide world-class procurement analytics support. All starting from US$2000 per month.
Procurement analytics: Tracking s

avings programs
Every procurement team should have a structured approach to tracking savings.
These savings calculations tend to be complicated and, sometimes, controversial. Nevertheless, proving savings delivered by procurement are critical to driving the right decision-making in procurement and to communicate the value of procurement to the rest of the organisation.
Tracking of savings projects will help to deliver lower costs and margin improvement.
There are at least 2 key reports to include on Saving projects:
The tracking of the individual savings projects themselves
The individual savings sheets can be tracked in anything from Excel to bespoke cloud-based systems.  What is critical is that each saving project has its own detailed tracking sheet to track the progress and the savings.
It is important to be able to capture if a savings project has a measurable P&L impact (a price-decrease) or not (a cost avoidance).
The critical aspect of Savings projects like so many cross-functional projects, is a clear project team representing functions such as Procurement, Purchasing, SCM and R&D working together in a structured manner and capturing clear action points at each monthly review.
The savings tracking overview
There should also be reporting on overall savings performance vs targets. Types of savings tracked will include, among others:
Negotiated price decreases or increased discounts or rebates
Substitution of a product with a cheaper alternative
Cost avoidance
Efficiency improvement
Total cost reduction
Make or buy cost reduction
Tracking of savings projects
Here is an example:
The reporting for tracking savings could look something like the chart above, but there are many alternative formats available. The key is that there is a clear overview of performance and areas to target.
Procurement analytics: C

ontract management
The process of tendering and managing and tracking contracts is the most fundamental of procurement analytics.
Any company which does not have these basics in place is missing a major opportunity for cost reduction and faces increased financial risk.
There are essentially 3 elements to this:
Managing RFQ process and the setup of a supply contract
The process of tendering out and inviting quotations can be done via simple excel templates or online auction or RFQ processes.
Contract tracking and follow up
Here is an example of what the contract tracking could look like at the highest level. Many ERP systems as well as software vendors, provide good solutions for contract tracking.
Tracking overall contract spend
The tracking of spend against each contract and conditions, and the ability to investigate the details per category or supplier.
Here is an example:
Any exception reporting of spend which is outside the agreed contracts. Any discounts, volume rebates, or formula pricing should be carefully tracked.
Procurement analytics:

Tracking sourcing initiatives
Sourcing new suppliers and new products, or even developing suppliers to improve quality or update specifications, is a critical function of any procurement team.
It is therefore vital that there are clear analytics to support the sourcing activities, as well as a god process to manage each individual project.
Here is an example of what the reporting could address:
Without good tracking of sourcing initiatives, most of them will drop off the agenda, wasting a lot of effort as well as opportunity.
Want to deliver savings in direct materials?
Business Analytiq provide outsourced procurement analytics services that helps you identify savings in direct materials. We also provide you with a single point of contact to provide world-class procurement analytics support. All starting from US$2000 per month.
Procurement analytics:

Price trend analysis
A price trend analysis is an analysis where 2 of the variables, the product mix and the FX impact, are eliminated, to isolate the price trend of a product or category.
Here is an example of the procurement analytics tracking price trend:
The elimination of the product mix is done by working with a fixe basket of products at a defined quantity. The basket of products and quantities can be changed based on a calendar year or last-12-months. The FX impact can be eliminated by translating all FX into a single currency at a rate which is fixed over time. (also known as a constant FX rate)
The price trend analysis most closely represents the performance of the Procurement team, although they are difficult to reconcile back to the P&L as the P&L contains the FX and portfolio impacts.
Procurement analytics:

Category analysis
Often a category is managed or overseen by a single category manager, either in a matrix structure or in a direct manner. It is therefore important to support a category manager with procurement analytics that provide both an operation and a strategic overview of the spend.
Looking at a single category in isolation is a critical tool in the management of the category.
Here is an example:
The procurement analytics should be flexible to allow for the nature of category and sub-category and what drives the business value of the category.
For example – one category may be bulk solvents, where tracking against market benchmarks is key, whereas a second category may be non-critical tail spend where exceptions and operational efficiency are the key driver of value.
Procurement analytics:

Category strategy
Procurement Analytics can also provide input into the Category strategy process. Although this is not useful on a month-to-month basis, it can provide a good reminder of the unique challenges and approach of each category or subcategory.
Here is an example of a single chart, which is super-imposed on an image of different buying levers.
The aim of a category strategy paper can vary greatly and should include different dynamics:
Market dynamics e.g., trends, innovation, etc
Understanding customer development
Understanding supplier development
Capturing and understanding major feed-stock sources and risk
Risk analysis
Sustainability
Procurement analytics:

Where-used analysis
The first question a procurement person will get if they mention price changes to raw materials is "what is the impact for my business?".
In some business this is an easy question to answer, but in others it will be complicated to estimate the impact of RM price changes through many layers of Bill of Materials to the final product.
Here is an example of what that reporting could look like:
It is important to be able to carry out this analysis quickly at critical times.
For example: in times of rapidly increasing RM prices, it is important to provide a clear input on which customer and/or product will be impacted the most.
Want to deliver savings in direct materials?
Business Analytiq provide outsourced procurement analytics services that helps you identify savings in direct materials. We also provide you with a single point of contact to provide world-class procurement analytics support. All starting from US$2000 per month.
Procurement analytics:

Supplier performance
Tracking supplier performance is a critical element of the relationship with your suppliers.
Here is an example of what the supplier performance could look like
It is important to separately also track any agreed Corrective Actions and other projects such as supply chain or innovation related with the supplier.
Procurement analytics:

Sustainability KPI
Many businesses have made it part of their mission and marketing plans to source a share of supplies from sustainable sources. Consequently, it is important to create reporting to track area of sustainable sourcing,
Here is an example of what the sustainability tracking could look like:
It is important to have this reporting updated and available. It will be regularly required for presentations to major customers, annual reports, Board discussions, and auditing.
Procurement analytics:

Forecasting & Budgeting
Forecasting and Budgeting is a key focus for management, so from a planning but also from a career and credibility perspective this is an important activity. However, in terms of business, it adds little genuine value.
The way to plan and forecast needs to start with the forecasting of raw material prices to about 9 months into the future. Most forecasts of data beyond 4-6 months have a 50% chance of being accurate. However, considering the critical feedstock prices and the timelag between the raw material pricing and the time it impacts the P&L, it is possible to forecast the P&L impact about 12 months ahead. Please see this article on how to forecast the P&L.
Below is an example of what the procurement analytics of forecasting and budgeting input could look like:
In terms of procurement analytics, it is best to liaise with the finance team on how they want the forecast to be presented, and at what level of detail. Some finance teams plan at a granular level, and others will work at a aggregated level, and procurement analytics need to be able to manage both. There need to be clear agreements on how to include FX, portfolio mix and changes in total cost, as well as what % of the savings targets to include.
In my experience, forecasting increasing variable margins is wishful thinking and forecasting decreasing variable margins is unacceptable unless there is a clear analytical explanation for either such as portfolio mix or a restructure of some kind.
Procurement analytics:

Transactional analysis
Transactional analysis can help to determine the efficiency and effectiveness of your procurement and purchasing cycle and help to identify any hidden costs or inefficiencies. So, it is well worth to set it up and keep an eye on it.
There are many different analyses that can be carried out on transactional performance. Here is a sample:
Transaction reporting can include measures such as:
Average lead time vs Inventory level
Number of complaints & claims
Average confirmation times
Cost per Purchase Order
Average number of orders and size per order
Cost breakdown per shipment
etc
Want to deliver savings in direct materials?
Business Analytiq provide outsourced procurement analytics services that helps you identify savings in direct materials. We also provide you with a single point of contact to provide world-class procurement analytics support. All starting from US$2000 per month.
Procurement analytics:

Payment terms tracking
Payment terms drive cash flow performance. It is important to establish target payment performance and constantly work at improving the terms.
But, on the simple principle that business is valued on 6-10 x EBITDA + 1 x Cash, then it stands to reason that a $1 of additional profit is as valuable as $6-$10 of additional cash.
So, focus on driving profit performance before driving cash performance. Nevertheless, every payment term stretched is an additional $ in the bank account and it is worth the effort to look at low-hanging fruit.
The way to look at Payment Terms is to compare them against industry benchmarks as a starting point.
Here is an example of payment term tracking:
Procurement analytics: 

FX exposure
It is critically important to have a grip on your FX exposure and to understand how that will impact your costs and margins.
With RM price movements the price impact on your P&L will take months to be apparent, but FX impacts move faster and need to be clearly understood.
The example above on payment terms includes a section of FX exposure.
Procurement analytics:

Spend analysis
Pure spend analysis is interesting but of limited business value.
The critical question you must ask is "so what" when deciding which spend analysis to do. Here is an example of spend analysis charts.
Spend analytics provide an overview of general spend, but unless it has good drill down functionality to allow you to understand the high-level trends and translate them into actionable insights, it is of limited business value.
Procurement analytics:

P&L reconciliation
The inability to reconcile procurement analytics and P&L cost of goods sold is an ongoing frustration for many in the finance team.
Here is an example of what the reconciliation bridge could look like.
There are many reasons why the numbers may not align. The most important are timing, FX, inventory write-offs, portfolio mix and total cost changes.
Nevertheless, it is worth doing a simple P&L reconciliation to demonstrate the magnitude of the various effects. There will be an "other" reconciling item, which should hopefully be relatively small.
Procurement analytics:

Tail spend analysis
Tail spend is an area of spend which needs to be managed with the minimum of effort without over-paying. In terms of procurement analytics, there are 2 areas to focus on: Managing by exception and Efficiency
Here is an example of what the tracking could look like, although this is likely to be quite different for different businesses:
Managing by exception
Tail spend is complex, and complexity should be managed by exception. So, it is important for the reporting to highlight exceptions which need attention: Price increases, Shortages, single source, business critical products all need to be highlighted.
Efficiency
Tail spend needs to be managed as efficiently as possible, so some transactional data about time for order confirmation, quality, number of suppliers & average spend, and any supply issues, etc are important to track. You do not want to have the tail taking too much time to manage.
Procurement analytics:

RM price comparisons
In some multinational companies, where procurement decisions are made locally from different preferred suppliers, it may be difficult to benchmark pricing internally due to freight, duty, and INCO terms differences.
Algorithms can be implemented to estimate landed cost to establish a comparison allowing procurement team to identify potential savings by a comparison on estimated landed cost.
Procurement analytics:

Make-or-buy decisions
Make or buy decisions are a special calculation for procurement, which requires finance and investment input. In general, the key decision driver should be around intellectual property unless the financials are clear.
The financials for make-or-buy decisions should generally be approached as a capital investment proposal, with the upfront layout investment and cost of manufacture compared to the cost of an outright buying scenario. If the financials are not overwhelmingly clear to inhouse manufacture, or the IP is not a major issue, it makes more sense to continue to Buy rather than start to Make. A third scenario which could be investigated in any scenario-analysis is Toll Manufacture.
Procurement analytics:

Market intelligence
Keeping track of market developments for categories is important element of understanding market dynamics and understanding relationships and supply chain issues.
And finally…
I hope this list will serve to give you some ideas on where to take your procurement analytics projects.
For this write-up on types of procurement analytics, I have used conceptual examples only. Clearly every business is different and requires a different set of analytics on which to steer the business.
Business Analytiq offers procurement analytics as an outsourcing option where we work with you to develop procurement analytics that work for your business.
Contact us today for a free discussion about the needs for your business.
Procure Analytiq
DELIVER DIRECT MATERIAL SAVINGS
ProcureAnalytiq is an online cloud-based software tool to track market developments and leading indicators related the direct material purchases for your business. 
ProcureAnalytiq enables user to faster reaction to market changes, better negotiations, automated forecasting of material pricing, better internal and external communication, and ultimately reduces direct Raw Material prices.
Interested to explore more?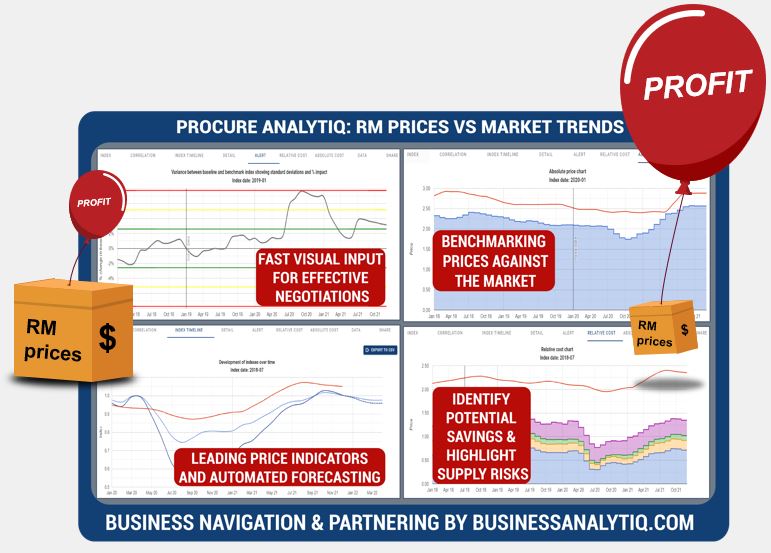 The summary above comes out of the ProcureAnalytiq system, based on generic market data and outline cost-driver models. In general, if we work with a client, we develop cost-driver models which are more accurate and relevant and which can be used in negotiations, price tracking, or even price mechanisms.
As market models are confidential, we can not work with competing companies in a single industry.
Here is a short summary of what ProcureAnalytiq is intended to do.
ProcureAnalytiq enables external benchmarking of your raw material pricing
ProcureAnalytiq was built to support tracking critical benchmark and cost-driver price development against your RM pricing.
Track your pricing against  external benchmarks
Finding and tracking external benchmarks is a critical requirement in procurement. It requires advanced search for external benchmarks and system to ensure that the tracking is correctly done in terms of Indexing, FX, Unit of Measure,
Track your pricing against critical feed-stock pricing & disruption
Choosing the right data sources for the critical cost drivers and proving the correlation through a look at history. Many procurement managers already keep an eye on 1-2 critical cost drivers. But often they are searching for the right price trends and they may choosing the wrong source of cost-driver data leading them to reach the wrong conclusion.
Build price indexes which are an indicator for your business or SBU's
ProcureAnalytiq enables you to set up benchmark indicators in minutes to establish overall market indicators for your industry.
Save time & effort in procurement
In addition, the search of data as well as model building in Excel takes times and effort by the procurement staff. This time is better spent on interpreting data and planning negotiations rather than fiddling around in Excel?
Sharing of results
ProcureAnalytiq helps users to share their analysis over time, so that only 1 junior person can maintain the data (based on reliable data sources) and the others can use the analysis for interpretation and communication. It also allows a team to share their input with the supervisor or with research or other business partners.
Interested to explore the topic futher?
If you are curious about the topic of price benchmarking, especially of critical cost-drivers, please feel free to reach out to me through the Explore ProcureAnalytiq page