How to make the various models work for your business
Please see below a write-up of our experience of the different business models and how to make them work
Models you can run
The ProcureAnalytiq system allows you to set up different types of models and collaborate with suppliers and customers. Here are the models you can set up.
Product price indexes
Track a market price benchmark  against your price development. Over time you will gain insight and the ability to forecast price developments
Product price mechanism
Agree a full price mechanism with your supplier. It will reduce business risk and allow you to focus on the areas which need your focus
Feedstock tracking
Track keep feedstock trends of your key raw materials, to be able to plan your purchasing and inventory management accordingly.
RM Price index
Set up a key feedstock price index for your key raw materials, and strengthen your negotiating position.
Category index
Index your category against key feedstocks developments, and keep an eye on opportunities and prcurement performance
Procurement index
Index your full purchases against a key basket of feedstocks and market indicators to understand performance and outlook.
Procure Analytiq
DELIVER DIRECT MATERIAL SAVINGS
ProcureAnalytiq is an online cloud-based software tool to track market developments and leading indicators related the direct material purchases for your business. 
ProcureAnalytiq enables user to faster reaction to market changes, better negotiations, automated forecasting of material pricing, better internal and external communication, and ultimately reduces direct Raw Material prices.
Interested to explore more?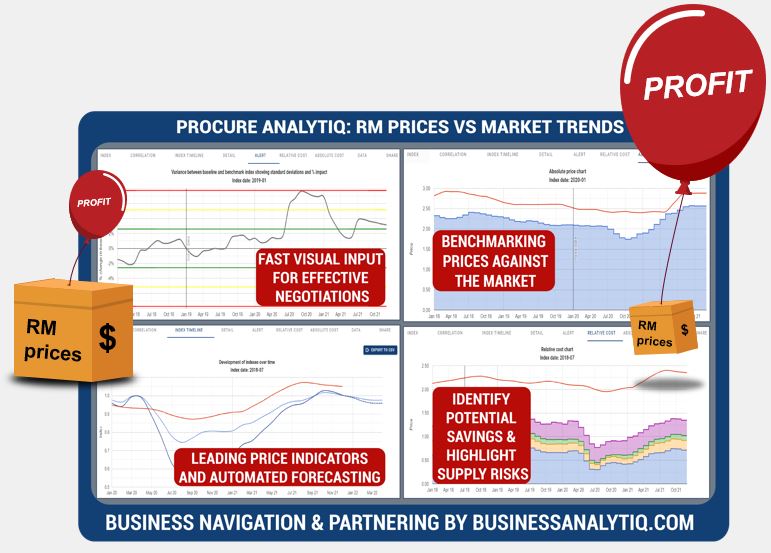 Insight into price development
Indexing the basket of pricing against a weighted basket of feedstocks gives a feeling of price development overtime, and into the near future
Track performance
Track basket of prices against weighted average feedstock developments
Better purchasing and inventory planning
Feedstock price developments will give insight into RM price developments in the short term
Improved supplier relations
Indexing the key feedstocks of your raw materials will balance the relationship with your supplier and reduce your and their risk
Greater clarity
Greater awareness when a commercial relationship is out of balance
Reduced risk
Higher awareness of market developments will lead to better decision making
Improved customer relations
Taking some of the quarterly friction out of the price negotiation, and managing risk on both sides will reenforce the partnership model. And it will allow you to focus on the value-add int he relationship
Transparency
Transparent agreements and indexes will balance the relationship
Reduce risk
Manage expections and reduce risk for both parties. In the long run, it will differentiate you as a supplier