I am often asked where to source price bench-marking data. Here is a summary of the answer I normally give. 
To start with, it is important to note that not all price data is equal. Price data and bench-marking data can be found at different levels:
Absolute prices and price index developments. Both are useful.
Price data for direct benchmarks for bulk purchases or commodities, and price data for critical cost-drivers of the direct materials you purchase.
Consolidated indexes which combine different elements of an industry to give an overall price trend for an industry or category
Here is a list of the different options for sourcing price data on the internet and beyond.
Buy the data
The easiest, and most expensive option, is to buy the data.
There are many specialist companies which focus on data collection, validation and analysis. Companies covering a broad spectrum such as:
The benefit of this data is that it is the most reliable, local and relevant.
However, their prices can diverge from each other, so you have a choice of truths. And this data tends to be relatively expensive to purchase and still tends to be biased towards the seller input rather than the buyer so the prices may tend to show increases faster than decreases.
The critical point on purchasing data is that it is definitely worthwhile if:
You can use it as a direct benchmark for your products

You have price mechanism or formula pricing with suppliers or customers

Frankly, if you actually use the data in a meaningful way
If none of those apply, the cost of the data is not justified. I have seen too many cases where companies buy data, but then use it on an infrequent basis.
Free sources on basic commodities
There are many government and global institutions which publish monthly data which can be used for non-commercial purposes:
This data tends to be at a very upstream commodity basis, and global but the data can be relied on to be accurate. They also use the data to put together indexes of different categories which can be a useful
Businesses specialising in an industry or a country
There are a number of defined sources that target smaller industries
Examples include companies like
The list I included above is small – there are at least another 40-50 websites with relevant information, almost all of which can be found by internet searches.
These companies are specialists in their fields and can have good industry expertise. Most of these business operate a Freemium model where they release some data free of charge, but for the core database they require a monthly subscription fee.
However they also tend to be seller-dominated in terms of pricing, so pricing can be overstated and quite volatile, so i would exercise caution in taking the numbers as a perfect reflection of the market.
Import and Export data
Import and Export records can be a source of information in terms of diretion of pricing, even if it is dangerous to try to get direct pricing information from Import and Export data.
Companies such as Volza can help identify which countries publish price data of shipments on a HS code basis. In some cases this can help to identify price trends. There are many other companies that make this data available.
The advantage is that in some cases you can find specialties price trend data. But the pricing is distorted by INCO terms, shipping quantities, as well as suppliers insisting on including guaranteed rebates in the invoice prices.
It is not usable for finding absolute prices, but it can still be useful for find price trends over time.
Industry associations
Some industry associations will collect and track data on behalf of its members and publish that data on an anonymous basis to all members.
Whilst Industry Associations clearly cannot share price data among its members, there is room to generate an industry price index based on anonymous and non-specific shared data by the members.
Anecdotal data
In my strongly held opinion, searching for price benchmarks in procurement should be relentless.
There are occasional anecdotal data sources that become available that should be exploited to the maximum:
Due Diligence exercises
Industry insiders sharing knowledge
Sales managers joining a new company
Newspaper and internet reporting
Capturing anecdotal insights is vital even if it does not guarantee future information, it can still give a prompt to look into opportunities.
ProcureAnalytiq data services
There are 2 types of data series in ProcureAnalytiq.
Individual Price data series
ProcureAnalytiq tool comes with 500 inbuilt price data series as well as FX.
We do this mainly by webscraping public price data series and statistically eliminating data that we feel has too many inconsistencies. For most data sources we like to have 2-3 different sources so that we can establish the credibility of the data.
Here is a link to the price data that we track as part of our ProcureAnalytiq offering.
Ready made indexes in ProcureAnalytiq
We also have ready made indexes specifically designed for certain product categories which tend to be harder to track. Examples are pigments, resins, films, etc. 
Final thoughts
Why source the data yourself?
ProcureAnalytiq team will maintain the data series for you as part of the license fee, running automated scripts to collect the data you need and make it available on a monthly basis.
How will you use the data?
The trick with bench-marking is as much about the source of the data, as how you use it. In my experience, there is always a way to reject the data, and there is always a way to use it meaningfully.
The difference often lies in your willingness to allow yourself to be challenged.
Procure Analytiq
DELIVER DIRECT MATERIAL SAVINGS
ProcureAnalytiq is an online cloud-based software tool to track market developments and leading indicators related the direct material purchases for your business. 
ProcureAnalytiq enables user to faster reaction to market changes, better negotiations, automated forecasting of material pricing, better internal and external communication, and ultimately reduces direct Raw Material prices.
Interested to explore more?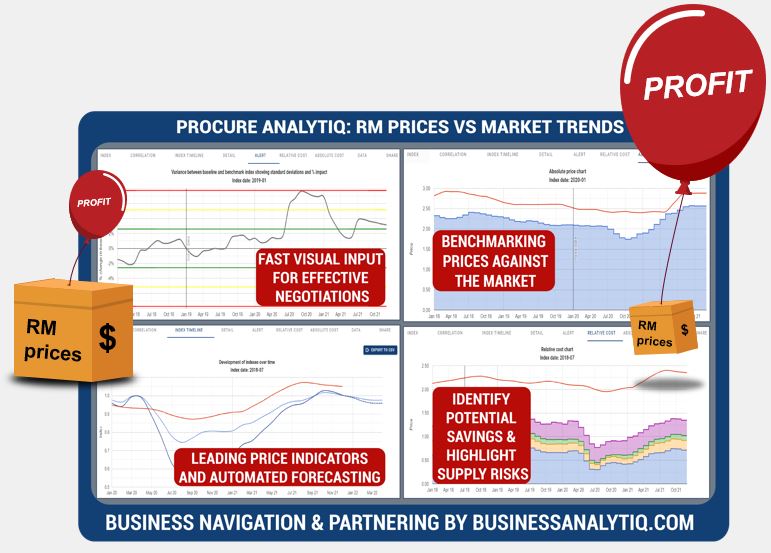 ProcureAnalytiq enables external benchmarking of your raw material pricing
ProcureAnalytiq was built to support tracking critical benchmark and cost-driver price development against your RM pricing.
Track your pricing against  external benchmarks
Finding and tracking external benchmarks is a critical requirement in procurement. It requires advanced search for external benchmarks and system to ensure that the tracking is correctly done in terms of Indexing, FX, Unit of Measure,
Track your pricing against critical feed-stock pricing & disruption
Choosing the right data sources for the critical cost drivers and proving the correlation through a look at history. Many procurement managers already keep an eye on 1-2 critical cost drivers. But often they are searching for the right price trends and they may choosing the wrong source of cost-driver data leading them to reach the wrong conclusion.
Build price indexes which are an indicator for your business or SBU's
ProcureAnalytiq enables you to set up benchmark indicators in minutes to establish overall market indicators for your industry.
Save time & effort in procurement
In addition, the search of data as well as model building in Excel takes times and effort by the procurement staff. This time is better spent on interpreting data and planning negotiations rather than fiddling around in Excel?
Sharing of results
ProcureAnalytiq helps users to share their analysis over time, so that only 1 junior person can maintain the data (based on reliable data sources) and the others can use the analysis for interpretation and communication. It also allows a team to share their input with the supervisor or with research or other business partners.
Interested to explore the topic futher?
If you are curious about the topic of price benchmarking, especially of critical cost-drivers, please feel free to reach out to me through the Explore ProcureAnalytiq page