BusinessAnalytiq acts as navigation partner on Profit, Procurement, and Investment analytics
Procure Analytiq
DELIVER DIRECT MATERIAL SAVINGS
ProcureAnalytiq is an online cloud-based software tool to track market developments and leading indicators related the direct material purchases for your business. 
ProcureAnalytiq enables user to faster reaction to market changes, better negotiations, automated forecasting of material pricing, better internal and external communication, and ultimately reduces direct Raw Material prices.
Interested to explore more?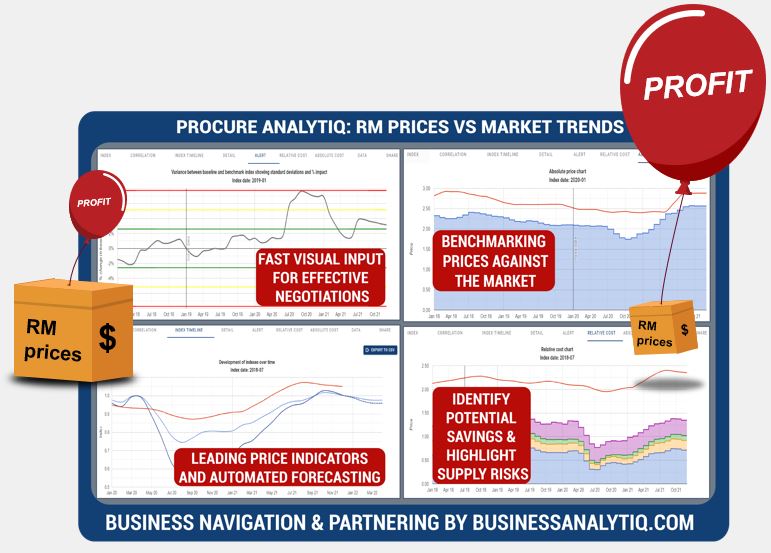 Profit Analytiq
DELIVER INCREASED PROFIT
ProfitAnalytiq is a program that focuses on increasing profit through benchmarking pricing, cost structures and service levels.
ProfitAnalytiq targets specifically leading indicators, variable profit margins, cost-to-serve analysis, and Profit & Loss benchmarking vs competition to identify areas of improvement to the profit of the business.
Interested to explore more?
Invest Analytiq
DELIVER PLATFORM FOR GROWTH
InvestAnalytiq is a program that helps to lay the foundation for future growth. 
InvestAnalytiq supports large investments such as expansion projects, M&A,  new factory sites, site network optimisation projects, and any other complicated projects which involve complicated financial models.
InvestAnalytiq gives you the security that you have expert financial input into the decision making process.
Interested to explore more? 
Mike's great strength is his ability to turn data into implications and recommendations to improve the business. Mike's style to do this as a colleague suggesting and recommending leaves room to discuss and build on input. The combination of strong insight and openness to discuss makes him a success. He then builds solid plans to structure the approach. The combination is an asset.
Mike is a knowledgeable and practical business professional, who is an outstanding business partner for any owner. His focus is entirely on finding practical solutions to drive business performance, bringing a whole team along with him on a journey that leads to strong bottom-line improvement. His strength is to focus on the areas that really matter and to understand them thoroughly.