This post is a summary of the PA66 price index developments since 2017. The price developments are expressed as a price index in US$ prices converted at current FX rates, which are the FX rates applicable at the time the price was valid. PA66 price index developments are calculated from multiple separate sources of data to ensure statistical accuracy.
PA66 price index
Further sources of information on the PA66 price index:
Procure Analytiq
DELIVER DIRECT MATERIAL SAVINGS
ProcureAnalytiq is an online cloud-based software tool to track market developments and leading indicators related the direct material purchases for your business. 
ProcureAnalytiq enables user to faster reaction to market changes, better negotiations, automated forecasting of material pricing, better internal and external communication, and ultimately reduces direct Raw Material prices.
Interested to explore more?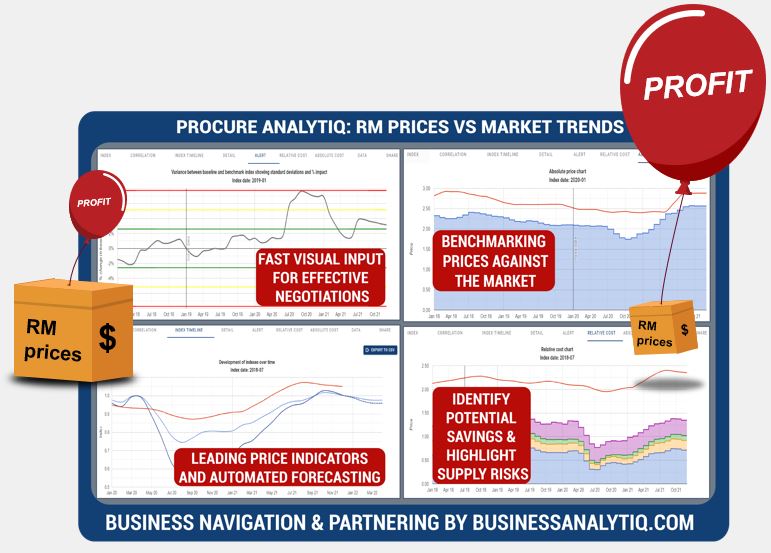 Frequently asked questions
What am I looking at?
This the index trend of the price, in US$ and usually per kg but for liquids it is per litre. The chart shows the price trend,  often taken as a statistical average across multiple sources. 
Some of those sources include published import and export statistics, and as those statistics are often available only 1-2 months after the commercial transaction, prices may be adjusted in the last few months.
What if I want to know the real contract prices?
Contract prices are commercially sensitive and vary greatly depending on the source, the volume, the country and the supplier/customer relationship. With the exception of pure commodities, every commercial transaction is at a different price.
The focus at BusinessAnalytiq is to provide an accurate trend of a reasonable average price, from multiple sources.  And the focus us to help users to use that trend to make better business decisions.
Can I rely on these trends?
We do our best to make it accurate and reliable but Business Analytiq assumes no responsibility or liability for any errors or omissions in the content of this site. The information contained in this site is provided on an "as is" basis with no guarantees of completeness, warranties of merchantability, accuracy, fitness for a particular purpose, usefulness or timeliness.None of the authors and contributors, or anyone else connected with Business Analytiq, in any way whatsoever, can be responsible for your use of the information contained in or linked from these web pages.
What if i want further information, or other price indexes
Feel free to contact us. There are a few different ways to reach us. Please go to Explore ProcureAnalytiq.